We are pleased to announce the release of SocialEngine PHP 6.2.0! This release adds a few new features and improvements, and addresses bugs posted by members of our community and staff. In celebration of July 4th, we are also having an early celebration sale!
Improvements:
NEW – The admin panel design has been updated to a more modern look! We are very excited about the new design.
NEW Feature – Added the ability for admin to set which font-awesome icon to use for rating for each plugin. This allows admin to further customize their site to suit their niche.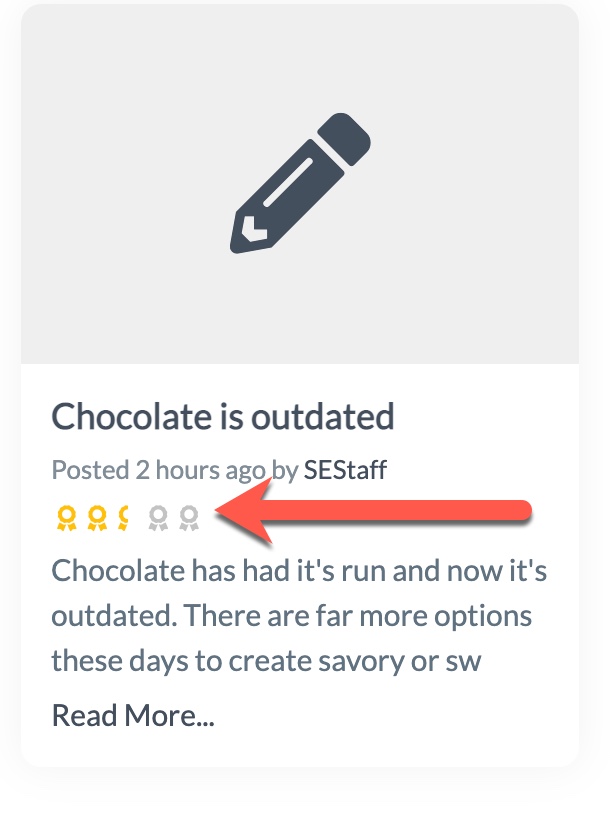 NEW Feature – Notifications for ratings! Now, when someone rates an item, the creator of that item will receive an email notification and an in-site notification. Admin can enable/disable this feature. Users can opt out/in to receive the notifications.
Improved – Updated Amazon S3 regions to add more available regions.
Improved – Added compatibility for AWS signature version 4.
Improved – Added "Only Drafts" filter for blogs to make it easier for the user to find their draft blogs.
Bugs Fixed
Fixed – Error with Zend_Currency_Exception: No region found within the locale 'en'.
Fixed – Cleaned up issues in the warnings log.
Fixed – Error when creating group categories.
Fixed – Some servers had imagick issues, improved the function.
Fixed – Some code was still being stripped when added to the editor with code tags.
Fixed – Updated all tutorial links in the admin panel.
Fixed – Admin Manage Tags Undefined index: text.
Fixed – Admin Manage Tags Undefined index: resource_type.
Fixed – Events error Undefined variable: tabClass.
Fixed – Video thumbnails from video sharing sites not showing.
Fixed – Some event description formatting is being stripped.
Fixed – Issue in log browser scrolling on end of page.
Fixed – Deleted member doesn't delete forum threads/posts.
Fixed – Events error Undefined variable: tabClass.
Fixed – Group browse Undefined index: subcat_id.
Fixed – Group error Trying to get property 'active' of non-object.
Fixed – Deleting member doesn't delete forum content.
Fixed – Error with task and PHP cron.
Mobile App Issues Fixed:

When sharing an album, a different photo is shown in the feed.
When I go to the manage videos page and click on edit video, the App is crashing.
When I click on the video title from the feed, it is showing a blank page on the view page of videos.
When another user comments on my music, it is not visible but the show is happening on the web.
In the mobile app, the next page for making comments is not even opening, whereas it comes in the web.
There is no clarity in the app as to whom it is indicating.
Location is not being added inside these mobile apps and events.
A complete changelog is available for more details about the changes and fixes implemented in this 6.2.0 release. Please view our demo and explore the new features!
You can download your copy of version 6.2.0 from our new client dashboard. Clients who purchased from November 25, 2021 until our stable release will receive the v5 to v6 unlock for free. Please send a ticket from within your account requesting the free v6 unlock. For clients who purchased before November 25, 2021, a fee is required in order to unlock v6.
As always we highly encourage all users to do a complete backup of both files and database before performing an upgrade. Please have the backup performed by your host or a developer if you're not comfortable with performing it yourself.
Important: If you are on version 4.9.4p1 or below, you will need to follow the special steps in the upgrading documents linked below before upgrading and applying the patch mentioned.
Important: If you are upgrading to v6 please use the patch for v6 that is in the upgrade document so that your older sites (any below v6) will be able to upgrade when the server is updated to PHP 7.3 or up.
Fresh installs should follow our installation tutorial or you can order an installation and our team will get it installed in no time.
To upgrade from a previous version to 6.2.0, please view our upgrade documentation. For those not on V6, please note it has new requirements. Please be sure to read them and have your server updated.
If you find any issues with this release, please let us know by filing a bug report in our Bug Tracker. We'd also like to encourage you to stay connected with the community.
In addition to this great new release, we wanted to start the July 4th celebration early! Grab your 20% discount and start your community today!
July 4th Independence Day Sale Details:
Start Date: June 29, 2022
End Date: July 8, 2022
Discount Amount: 20%
Qualifying Product: SocialEngine PHP Self Hosted Bundles
Discount Code: July4th2022
Where to Purchase: SocialEngine PHP Purchase Page
With Great Appreciation,
The SocialEngine Team